In the old west end in the 1960s, there were LOTS of garage bands. This song tells a story about being in a local band at the time, based on my own experience. (You can find the lyrics and streaming audio of the song under the Music tab.) Musical highlights like the guitar lick in Johnny B. Good or the drumming in Wipeout inspired kids to get into music, even before the British Invasion. When I was around 12, I met this bunch of guys a little older than me, who had a band. I would hang out with them whenever I could. The band leader was Ronnie H. and he had this fabulous sunburst Fender JazzMaster guitar. They are the "Ronnie, Bob and Casey and their drummer Jim" in the first verse of the song. I don't know what happened with them but according to The Canadian Pop Encyclopedia, Jim, who was Jimmy Pagliaro, went on to join the 5D, who were a really big band in Ottawa then (and have reformed recently as The Yohawks, but with their original drummer, Brian Bradfield).
In the second verse, Rick is Richard A., a primary school classmate, who owned an electric guitar, maybe the first I had ever seen. I would visit sometimes at his house and once he played the Venture's "Walk Don't Run". I was mightily impressed. But where I really got the music bug was at this group home on Spadina Avenue, which had a third floor room given over to music. Kids from all over the neighbourhood would go over and fiddle around with the instruments. Ronnie H. hung out there, so did Henry Blaszczak, who is playing at the CD release party with me. Around this time, I started to sing with these groups. I was best known for my Jagger impression, doing it just like Mick, you know move like Jagger! One of the bands that wanted me to front them was the Silver Sporadics. They were mostly a French group from Lower Town, but one of the band members, Gerry P., moved just down the lane from my house. Their main thing was that they sprayed their hair silver, no doubt influenced by the Quebec group, Les Classels. For the longest time, I couldn't remember their name, the Silver Spastics? the Silver Sporadics? maybe I had just invented this. So was I ever happy to find this!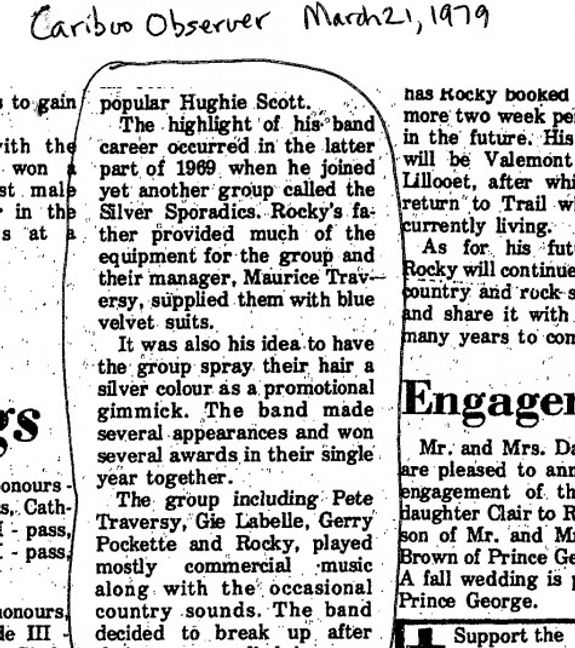 In the third verse, Glen Rocque was a guy in Mechanicsville who always had old cars in his side yard and garage, which he restored. He also had a pretty good band and he himself played a lovely Gretsch Country Gentleman. I don't know if Glen still plays but up until recently, he was for sure still into cars. Check this YouTube video: https://www.youtube.com/watch?v=CGrHR15CSoI&feature=youtube_gdata
It's Dem Things was a garage band made up of guys from my class who practiced on O'meara Street. I hung out with them, just as I was learning to play guitar, in the summer of 1965. How's this for a real vintage pic.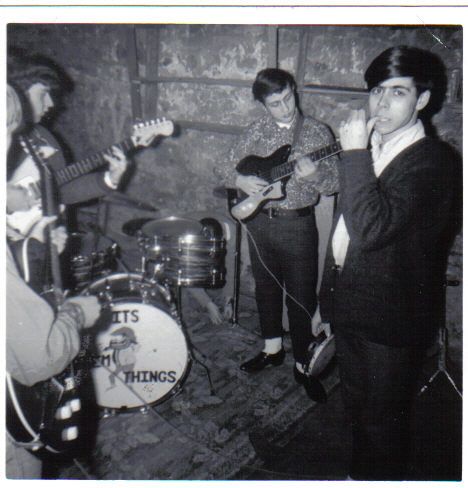 That's a little sliver of me on the left, with a couple of band members and my friend the late Mike Bolton. Mike and I, along with John Sammon, who passed away a few years ago, and Tom Howarth had our own little band on Irving Ave, where we all lived a few houses from each other. The line "back on our street, there's these four skinny kids" refers to us. Henry Blaszczak, whom I mentioned earlier, was very good friends with Mike as well. Henry was famous for owning a Vox teardrop guitar, just like Brian Jones of the Rolling Stones, who was my idol. So that rated Henry pretty high up in my book.  Mark Bolton, Mike's son, whom I met in the most serendipidous way, will be playing guitar at the CD release party, and I couldn't be happier to have him there.  
The Poets, mentioned in the next line, are the Poets of the Great Society, which was my main band from 1967 to 1969. We were based on Carruthers Avenue, at one the band member's house, Butch Lascelles, who unfortunately also left us too young. "Butchie's Song" on the album is dedicated to him. Here he is, centre, with me singing into the mic on his right and Bob Moorhouse in the background. This was at a school dance at Académie de La Salle in winter 1968. (His mom made him that jacket, bless her.)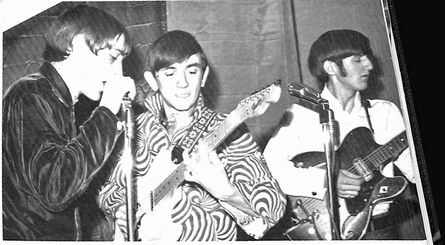 The other two band members were Jake Chartrand on drums and Lionel (Nel) Viau on bass. Both of them will be at the CD release party!
Poets of the Great Society seems like a grand name, but here is the source of it, the July 1968 issue of Mad magazine.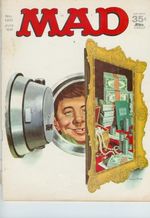 It contained an article entitled The "Great Society" Alphabet Book, which had one poem for each letter of the alphabet. American flag, Black power, Credit card, Draft card, Electonic computer, Freeway, Groups, Hippies, Integration, Johnson, Klan, Letters,  Mini-skirts, National conventions, Obsolescence, the Pill, Quadruplets, Rocket, Smog, Tax, Urban renewal, Vietnam, World War III, X-rays, Youth, Zillions. There you have it, 1968.   
We thought these poems were cool, in a protest kind of way, but leavened with with the Mad magazine "What me worry?" cynicism. So we became The Poets of the Great Society.   
The next band mentioned is the Saints and Sinners. Here my memory fails me. All I know is that my girlfriend in the spring of 1967 told me as we stood at Preston and Somerset that she thought the Saints and Sinners or maybe just The Sinners were better than us. There was a Montreal based group called The Sinners at the time, who recorded in both French and English. Pretty cool early psychedelia. But she can't have meant them. There was a group later called the Saints and Sinners. It was Tony D's band in the 1980s, so it can't be them either. So maybe there was an earlier version of the Saints and Sinners, but I can't find anything about them. But it fit the rhythm of the line perfectly, so I left it in.
Finally, there was Albatross, a very good group, based a little further west, who were just taking flight (haha) as we were breaking up in 1969. There is not much about them online but here is a link to a musician's site that states he was at one time a drummer for Albatross. Steve Hollingsworth was for sure a drummer for Albatross, which I confirmed with him recently, and he went on the become a fixture in the Ottawa music scene.  
So, a band on every corner is a barely exagerated claim in the old west end in the 1960s, a fabulous time to be in a band, with friends, playing and dreaming, before things kind of turned as the decade ended. But that's for an other album!